Ibhar Corporate Performance Management enables Airports to efficiently plan and manage their operations and additionally provides the tools to improve Productivity and become a High Performance Lean Organization.
Airport organizations are offered different Performance Management methodologies and business tools that can be adopted based on their specific needs.
A clear vision of what the Airport plans to achieve can be outlined as clear objectives to the departments or cross functional teams. Management By Objectives (MBO) provides a framework of deploying objectives to individuals or teams. This provides clarity to the the teams in aligning their roles with the organizational objectives.
Ibhar offers the business tools to deploy the objectives and help teams to manoeuvre their activities and energies towards achieving those. This while fulfilling their routine tasks and not taking their attention away from what is important for the overall organization to achieve.
Objectives can be expressed as a set of key performance metrics that can be used to identify progress made towards achieving the business plans.
Balanced Scorecard framework provides organizations to adequately address the various objectives that may compete for resources and attention. Team accountability is strengthened and focus established on key objectives by assigning weights on individual metrics within a scorecard.
Defining a Corporate, Department or Cross-functional  scorecard with senior management responsibility ensures team work and brings about an objective focus on all aspects of the business.
Ibhar also enables definition of individual scorecards. Scorecard items can be weighted and scored accordingly.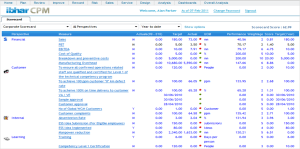 Organizations use the Plan-Do-Check-Act (PDCA) or the Deming Cycle to improve performance on an on-going basis. When an objective appears to be stalled or can provide better results with an intervention then such tools are employed to identify the causes and address them effectively.
Ibhar applications support the PCDA cycle based approach to assist teams in problem solving to achieve set objectives.