Creation of a sustainable safety culture would mean the ability to actively bring about improvements, leverage information technology systems and tools for continuous monitoring of Airport related activities, easily reporting of Incidents and Accidents and conducting Root Cause analysis to analyze, understand and improve processes in a continual basis. Supporting an Accident or Incident investigation with problem solving tools is essential to deploy the right kind of safety defences, barriers and counterbalances.
Sustaining a safety culture also require effective collaboration between multiple stakeholders while creating an environment of continual learning and training.
It is important to continually review adherence as well as performance of various parameters through the use of tangible metrics. Conducting Audits periodically and acting on Gaps or non-conformances almost immediately is important to sustaining compliance to standards.
The Ibhar solution provides specific tools to
Document and Communicate Safety Policies and Objectives
Classify and document Safety Risks
Conduct Safety Assurance
Conduct Safety Promotion
With Ibhar, based on inputs received from Regulators, Standards, Accident and Incident reporting and Investigation, Safety Audits and Safety suggestions Analysis is done and the Airport Safety Team provides information to both key stakeholders as well as employees. Safety recommendations are made and sent to relevant Committees. Corrective actions can be implemented which result into New and Revised procedures, Training / Audits, Safety Campaigns, Improvement of the Airport Safety systems.
Safety Objectives and Policies
With Ibhar your Safety department can document all Policies and Objectives related to SSP in a wiki based environment. Key Policy areas come pre-configured in the Ibhar system. The Ibhar system will also work as a single repository to document and store all information and resources which include forms, report formats, procedures, policies etc. Pre-configured topics include all topics listed in the ICAO Doc 9859 Safety Management Manual.
With Ibhar every Operational and Safety Risk can be categorized based on its Likelihood of occurrence and the Consequence of that risk happening. A Risk Assessment and Tolerability matrix provide a comprehensive understanding of the Risks managed by the Airport at any given time.
Risk mitigation strategies can be identified and implemented assigning specific responsibilities to employees from relevant department associated with the risk.
Controls that need to be in place to mitigate a specific risk can be identified and related to the Risk. With Ibhar these Controls can be audited periodically. Assessors can audit using their mobile phones or Tablets.
Non-conformance or Gap reports and alerts are generated immediately and individual Control as well as Risk item owners can informed.
Projects and Initiatives to mitigate risk can be reviewed through the comprehensive Ibhar project management functions.
Structured Reviews can be designed to highlight Audit results, Controls and areas that are not conforming including Trends of conformance, Risk Assessment Matrix and Risk tolerability Matrix.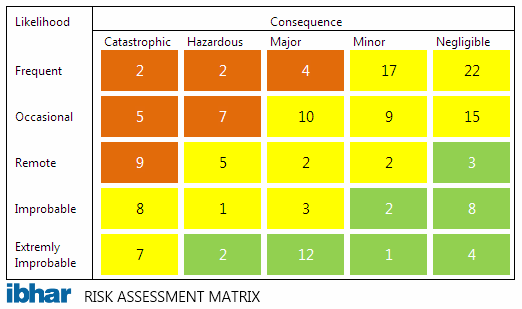 The Airport can continually monitor internal processes, procedures and practices to detect aberration to standards and organizations policies using the Ibhar solution. Audits can be conducted using structured closed ended Questions with a pre-defined choice of responses that indicate conformance or the lack of it. Safety managers can now use their mobile phones or Tablets to conduct Audits. Immediately on completion of the Audit exercise relevant stakeholders are alerted on the Gaps or non-conformances in their department or area. Action Plans can be defined to eliminate the Gaps specifying individual responsibility to employees.
With Ibhar Structured Reviews periodical reviews can be conducted easily with Dashboards providing inputs on safety performance indicators, non-conformances and gaps, status of planned tasks and actions, events and trends of incidents and accidents. With Ibhar targets and alert levels for each safety performance indicator can be set.
A positive safety culture is characterized by values, attitudes, and behavior that are committed to the organization's safety efforts. This is achieved through the combination of technical competence that is continually enhanced through training and education, effective communications, and information sharing. Senior management provides the leadership to promote the safety culture throughout an organization.
Source ICAO SMM (Safety Promotion)
With Ibhar Training Needs can be identified and training programs planned for employees. Training managers can plan, monitor and rate individual training programs. Effectiveness of training imparted can be analyzed through a web enabled survey conducted with employees trained post training. Trainers can also provide objective feedback through a structured questionnaire post training.
With Ibhar's wiki based tool information and resources can be made available to employees. Ibhar solutions integrate with Microsoft Sharepoint to provide seamless sharing of organizational information.
With the Ibhar Project management tools the Implementation of the Airport SMS can be planned and monitored easily. Project activities and milestones are represented as Gannts. As you can assign activities to specific employees, the Ibhar system provides the ability to improve accountability and employee participation.